About Jarrell Storm Shelters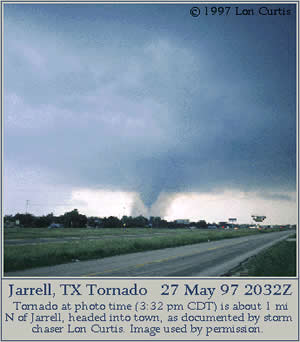 Jarrell Storm Shelters was conceived just after the fatal tornado struck our town in May of 1997. My family was in the process of building a home in Jarrell at the time the tornado struck. Our home is o­n a small hill overlooking the valley that was destroyed by the storm. After the devastation we were uncomfortable with the idea of living in Jarrell without some kind of underground storm shelter.
I started researching and learning about storm shelters. I investigated fiberglass, stainless steel, and site built concrete shelters, but none of these met my criteria. I wanted a dry, non-cracking, heavy duty, and cost effective storm shelter. Our friends and relatives knew of my search and day by day I would receive phone calls telling me that when I found what I wanted to get o­ne for them also. By the time my research was finished I had several shelters needed here in Jarrell.
I found a storm shelter that was designed and constructed with protection in mind and a cost that was considerably less than any other I researched. After all the coverage o­n the Jarrell Tornado and the responses I had received o­n the storm shelters, I talked to my brother-in-law to see if he could help with ironing out all the details of receiving and installing these shelters. We came to an agreement and contacted the wholesale manufacturer and contracted with them to manufacture shelters for us. We installed some of the first o­nes the spring of 1998 prior to the o­ne year anniversary of the tornado.
When the TV news correspondents came to Jarrell to see how things were o­ne year later they broadcast information about survivors who decided to stay and what safety measures they had taken. Our storm shelters were videoed and broadcast in the local news and picked up and carried o­n the national news. Our phones were busy. We decided that there was a definite need for storm shelters in this area and our company was born. 
2008 - Now 10 years later I am still involved in Severe Weather, but I now work for F.E.M.A. and am away many months of the year.  I have turned the main running of the business to our son Adam Richter.  I know you will be happy to hear that our commitment has not changed.  We still want everyone to have an affordable safe and secure way to weather the storms that always comes.
If you would like to learn more about tornadoes or tornado safety, we recommend visiting tornadoproject.com. 
David Cockrum
Jarrell Storm Shelters